Almost every home could use some remodeling here and there.  If your mother's home could use some fixing up, here are a few remodeling projects that give a good return on investment – either in selling price or in the speed of the sale.  One of these might make a great Mother's Day gift, even if your mother isn't considering selling her Southeast Michigan real estate in Oakland County.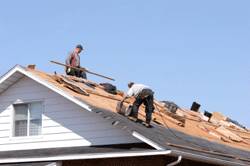 Flooring – If your mother's Southeast Michigan real estate has hardwood floors, it'll be worth the investment to get the floors refinished. If she only has carpet or tile, make sure it's in great shape. If not, replace the flooring with new carpeting or tile in a neutral color.  Buyers don't want to worry about replacing flooring in the near future.
Kitchens – Update countertops. Granite is great, but most markets still put a lot of value on nice, updated laminate counters. Also, consider freshening up the cabinets. If they're old and tired looking, refinish them with new stain or paint. If nothing else, a few dollars worth of new hardware, such as drawer pulls, will go a long way.
Paint and wallpaper – Remove wallpaper. Many people do not like wallpaper, and those who do like wallpaper have personal opinions on which wallpaper is attractive.  Also, make sure every room looks freshly painted.  Buyers want a finished house, not a bunch of to-do projects.
Roof – Consider replacing the roof, if it needs it.  Buyers will likely move on from homes needing large repairs.
Exterior – Patch cracks in the cement, plant some flowers and replace the door hardware, if it's dated. These are all inexpensive fixes that will pay off.
If you need help deciding the priority of quick fixes for your mother's Southeast Michigan real estate, call me at 248-514-2640 or email me at info@NorthWoodwardHomes.com. I'm happy to help.

Lee Morof
Associate Broker/Certified Distressed Property Expert/Attorney
RE/MAX Showcase Homes, Birmingham, Michigan
Call:  248-514-2640
info@NorthWoodwardHomes.com
www.NorthWoodwardHomes.com