Before you put your home on the market, you want to make certain that it's in tip-top condition to ensure a quick sale. The key to listing your home at a competitive price and guaranteeing you have what buyers are looking for is to think like a Bloomfield Hills real estate agent.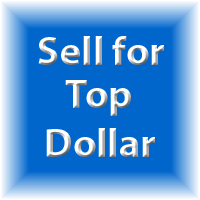 To get your home ready to sell, here are five easy and inexpensive home improvements this Bloomfield Hills real estate agent recommends:
Layout – Take an objective look at your home and stage accordingly. Remove clutter and rearrange so that potential buyers can envision each room for its purpose. Also, store any obtrusive furniture that disrupts walking flow or makes rooms look smaller.
Hardware – Update all hardware. Changing out door handles, drawer pulls and light fixtures is an easy way to modernize your home while costing little money.
Charm – Play up the unique features of your home. Refinish hardwood floors if scuffed, remove excess objects from built-in bookshelves and clean unique light fixtures. It's these irreplaceable elements that make your home stand out from other homes and hook buyers.
Scent – Eliminate all bad odors like pet scent, stale cooking odors and cigarette smoke.  Just lighting candles or spraying air freshener won't work.  Clean, deodorize and get rid of rugs or other cloth objects that still smell bad.
Curb Appeal – Spend some time sprucing up the yard of your Bloomfield Hills real estate. It's the first impression buyers will have of your home, and although the house might be in mint condition, a lots-of-work lawn could instill a negative notion before they even step a foot inside your home.
Buyers' needs vary in every market. However, buyers will always consider these five features before they buy. So, stay one step ahead of the game and ensure your house is up to par with buyers' expectations.
If you're getting ready to sell your home and are looking for a Bloomfield Hills real estate agent who can help you sell your home fast and for top-dollar, I'd be honored to be interviewed for the job.  Give me a call today at 248-514-2640 or email me at info@NorthWoodwardHomes.com to schedule an appointment.

Lee Morof
Associate Broker/Certified Distressed Property Expert/Attorney
RE/MAX Showcase Homes, Birmingham, Michigan
Call:  248-514-2640
info@NorthWoodwardHomes.com
www.NorthWoodwardHomes.com