Those who have never had homes for sale in Southeast Michigan before often think selling is as simple as hiring an agent and putting a sign in the yard. It's not, however, as you'll soon discover.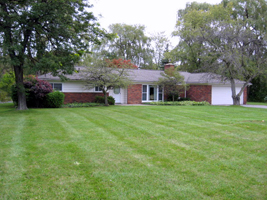 The Inside of Your Home
The exterior of homes for sale in Southeast Michigan is the first up-close impression buyers get.  So, when buyers make it inside, they're one step closer to actually buying.  However, if the interior is a mess, it could blow the whole deal.
Here's a checklist to make your home's interior buyer ready:
1. Make sure the front door doesn't stick
2. Test windows to ensure they open and close easily
3. Wash windows inside and out
4. Move pets and pet supplies to a temporary home
5. Fix leaky faucets 
6. Update fixtures on your cabinet hardware and door knobs
7. De-clutter closets and cabinets (yes, people open them!)
8. Replace or repair cabinet doors
9. Clean grout 
10. Wash the walls if not repainting
11. Repair cracks or holes in the wall
12. Paint walls a neutral color
13. Remove personal items, such as knick-knacks and personal mementos
14. Clean the fireplace
15. Have the chimney professionally cleaned
16. Remove clutter from countertops, tables and shelves
17. Steam clean the carpets
18. Scrub all appliances
19. Clean cobwebs and dead bugs from light fixtures and ceiling fans
20. Make sure every light has a working bulb
21. Degrease the stove and oven
22. De-clutter and clean the attic, basement and garage
23. Make sure crawl spaces have crawl space waterproofing  
24. Remove excess furniture
25. Rearrange remaining furniture in good proportion (Or hire a home stager)
26. Clean the drapes
27. Replace broken panels for electrical switches and outlets
28. Wipe down baseboards
29. Clean and wax linoleum floors
While each of the homes for sale in Southeast Michigan is unique, with different selling points and selling problems, this list is a good start for any home.
If you're ready to sell your home, I can help. Call me at 248-514-2640 or email me at info@NorthWoodwardHomes.com for more information.

Lee Morof
Associate Broker/Attorney
RE/MAX Showcase Homes
Birmingham, Michigan
www.NorthWoodwardHomes.com
info@NorthWoodwardHomes.com
Call:  248-514-2640