Whether you're looking to update your Royal Oak Michigan home before selling or you want to remodel a new place before moving in, it's imperative that you have a good relationship with your contractor. Unless you're planning to do the renovation work yourself, you'll be relying on the knowledge, competence and trustworthiness of someone you might barely know.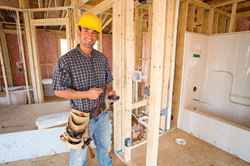 While you want to stay on good terms with the person renovating your Royal Oak Michigan home, there are a few formal guidelines that you should follow to ensure your projects are completed on time and on budget.
5 tips for working with a contractor: 
Keep in constant communication – Try to touch base with your contractor every day. Exchange cell phone numbers, set up a daily appointment or send periodic emails. This allows your contractor to keep you up to date on changes or issues, and it allows you to voice questions and concerns.
Know what you want – Decide the type of materials (such as hardware, tile or wood) you're going to use before you bring in a contractor to give you a bid. Without all of the information, he or she could vastly under or over estimate the renovation cost and budget. 
Sign off on all project changes – Put in your renovation contract that you want to be informed of all unforeseen changes to the project. This ensures that you stay in the loop and allows you to manage the total cost of your renovation.
Accommodate and be helpful – You and your contractor will be happier if you make his or her workers' lives easier by designating a bathroom for them to use or providing them with something cold to drink on a hot day. You'll help motivate and boost morale!
Make sure you only pay for work completed – Never pay the full amount up front.  Instead, set up a pay-as-the-project-is-completed schedule. Depending on the size of the renovation, decide on how much you'll pay after certain points of completion. This ensures work for the money.
If you want to learn more about dealing with Royal Oak Michigan home contractors, call me at 248-514-2640 or email me at info@NorthWoodwardHomes.com for more information.

Lee Morof
Associate Broker/Attorney  
RE/MAX Showcase Homes
Birmingham, Michigan
Call:  248-514-2640
info@NorthWoodwardHomes.com
www.NorthWoodwardHomes.com