Every New Years Eve, our family attends Birmingham's First Night, an alcohol free event sponsored by The Cultural Council of Birmingham / Bloomfield. The evening features live entertainment and crafts geared toward families.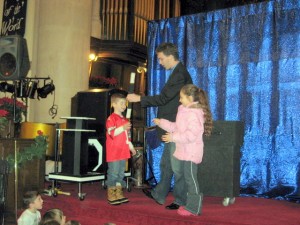 This year's performances were well worthwhile. The magic by Jason Hudy featured a levitating illusion that wowed the crowd. Puppeteer Brad Lowe was first provided an explanation of how marionettes are made. He then performed a soundtracked show about a fisherman who caught a magic fish that he let go. When the fisherman's wife learned about this, she nagged the fisherman to return to the fish and ask to have her wishes granted which, once granted, only led to more wishes.
This year's, First Night also included a Steel Band, face painting, a model train exhibit, and crown making. Of course, there are so many options that you cannot do everything. If you want to have a safe and fun New Years Eve with your family, be sure to attend next year's First Night event. 
If you're thinking about buying or selling Southeast real estate, give me a call at 248-514-2640 or email info@NorthWoodwardHomes.com.  I'd love to help!
Have a fun and prosperous New Year! 
Lee Morof
RE/MAX Showcase Homes
Birmingham, Michigan
www.NorthWoodwardHomes.com
info@NorthWoodwardHomes.com
Call:  248-514-2640