Energy efficiency and other aspects of environmentally-friendly living are very important to today's home buyers.  As a homeowner who wants to sell your property quickly and for as much as possible, it's crucial to highlight the green elements of your Royal Oak Michigan home for sale.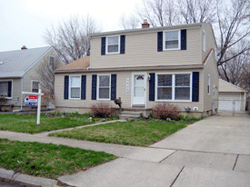 Your home may have more eco-friendly features than you realize, or you may be able to inexpensively add them.  Here are a few ways to appeal to eco-conscious buyers:
Highlight energy-efficient features.  What energy-saving systems and appliances do you have in your home?  Take an inventory of your home and identify items such as low-emittance windows, furnace or air conditioner with a high-efficiency rating, programmable thermostats, solar/wind/geo-thermal elements for the home or pool, improved insulation or a tankless water heater.  Add these features to the marketing materials for your Royal Oak Michigan home for sale.
Publicize health benefits.  Does your home have high efficiency air filters which remove indoor air pollutants?  Did you use low-VOC (volatile organic compounds) paint which reduces problems with allergies and chemical sensitivities?  What about eco-friendly flooring such as low-VOC carpets, cork or reclaimed wood which do not release chemicals?  Mention these features and their associated health benefits.
Promote natural elements.  Consider the functional natural elements you have inside and outside your home.  Natural lighting coming in through windows or skylights.  Strategic placement of trees to provide natural shading.  Mature trees or shrubs, vegetable or flower gardens and fruit trees.  Eco-friendly gardens and lawn grown without the use of harmful pesticides.  Effective use of cross ventilation to cool your home when the windows are open.  Use of plants to reduce soil erosion.  Promote these elements to your buyers.
Advertise water conservation.  You may be surprised how inexpensive it is to add water-saving features to your home.  Shop for water-saving toilets, shower heads, dishwashers and washing machines.  Plant landscaping that doesn't require extensive watering.  Buy a rain barrel to collect rain water for use in garden or landscaping.  Be sure to advertise these water- and money-saving benefits.
In your marketing campaign, you may also want to remind potential buyers that purchasing an existing home is greener than having a new home built.  That's because it does not require the energy or materials needed to construct a new home.
If you'd like to put your Royal Oak Michigan home up for sale, you'll get the results you want from my proven 30-Day Marketing System.  For more information about my system, give me a call today at 248-514-2640 or email me at info@NorthWoodwardHomes.com.

Lee Morof
Associate Broker/Attorney
Certified Distressed Property Expert
RE/MAX Showcase Homes
Birmingham, Michigan
Call:  248-514-2640
info@NorthWoodwardHomes.com
www.NorthWoodwardHomes.com