The real estate market is flooded with homes for sale.   Interest rates are at an all time low on fixed rate mortgages.  And, terms for acquiring a home loan are still fairly open.  This is expected to change and possibly soon, which means now is prime time to buy Royal Oak Michigan homes for sale.
To help you with this process, here are answers to four of the most popular questions I've recently received from home buyers:
Q:  Where can I find the best deal on Royal Oak Michigan homes for sale?
A: The answer is almost anywhere.  Because homes are sitting on the market for a long time, most homeowners are more willing than ever to negotiate.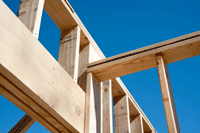 Q:  What about buying new construction?
A: The option for new construction is open to more people than ever before.  Builders are offering extended home warranties and many upgrades to help move their inventory.  Some builders now offer financial assistance to reach an even larger number of buyers.
Here's the number one tip to get the best deal in new construction:  Before starting your search for new construction, hire a real estate agent.  Your real estate agent can negotiate the best deal for you, even in new construction.   Be sure to visit new construction with your agent so the builder knows you're represented.  This representation costs you nothing and can save you a lot of money.
Q:  Should I look at short sales and foreclosures for my best deal?
A: Not really.  Although there are good deals to be found, the time and effort involved in purchasing short sales and foreclosures can be a huge negative.  Negotiating with a homeowner can be much easier than trying to negotiate with a lender for the short sale or foreclosure.
Q:  Should I wait for home prices to go even lower?
A: Definitely not.  Prices of Royal Oak Michigan homes for sale have come down from a few years ago and are much more stable and accurate.  The days of inflated home prices are long gone.  This does not mean that homes will not increase in value.  It only means that they will do so at a rate that should prevent the upside-down mortgages that some people are facing today.
This is a prime time to purchase a home.  With the large number of homes on the market, you are certain to find one to call home.  Let me help you in your search.  Call me today at 248-514-2640 or email me today at info@NorthWoodwardHomes.com.

Lee Morof
Associate Broker/Certified Distressed Property Expert/Attorney
RE/MAX Showcase Homes, Birmingham, Michigan
Call:  248-514-2640
info@NorthWoodwardHomes.com
www.NorthWoodwardHomes.com