With a new year beginning, it's time for you to get rid of last year's baggage and concentrate on making 2012 the best it can be. So if you had one of the Royal Oak Michigan homes for sale in 2011 and it's still on the market, then you only need to have one New Year's resolution: do whatever it takes to sell that house!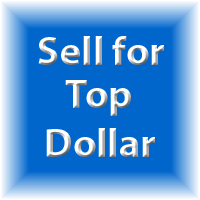 This economy has made it challenging to get acceptable offers from prospective buyers. While this is extremely discouraging, the lack of offers might mean it's time to bite the bullet and lower the price on your Royal Oak Michigan home for sale. Then you might be able to sell quickly and start a new lease on life.
Below are reasons you should lower your price now to sell fast and start anew:
It costs time and money to keep a house on the market. Maintaining a house and waiting for the right offer is a full-time job. There is constant cleaning, upkeep and improvements that can cost you time and money — which you could be investing into your new house.
Your home may be overpriced. If you aren't receiving any offers, have your real estate agent pull information on comparable properties in your neighborhood that have recently sold. This will give you get a better idea of where you should be priced.
Your real estate agent recommends it. He or she knows your market and can tell if your property has been for sale longer than expected. If a property sits on the market too long, potential buyers might suspect that something is wrong. If your house has more days on market than your agent expected it to have, then it's probably time to reduce the price.
Consider dropping your price so you can accomplish your New Year's resolution early in 2012. Reducing your price might also draw attention to your property, increase activity and bring more people through the doors.
If your Royal Oak Michigan home for sale isn't currently listed with an agent, and you're ready to get it sold, please call me at 248-514-2640 or email me at info@NorthWoodwardHomes.com. I'll implement my proven 30-Day Marketing Plan to get your home sold as quickly as possible.

Lee Morof
Associate Broker/Certified Distressed Property Expert/Attorney 
RE/MAX Showcase Homes, Birmingham, Michigan
Call:  248-514-2640
info@NorthWoodwardHomes.com
www.NorthWoodwardHomes.com