Trends for national and Bloomfield Hills homes come and go depending on many factors including the needs and desires of buyers, changes in technology and economic issues.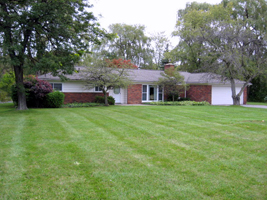 Here are some 2011 design trends predicted for national and Bloomfield Hills homes.
Kitchens Continue to be the Heart of the Home
People still love kitchens that are open and airy.  Popular kitchen countertops will embrace the green movement switching from granite to crushed recyclable glass under a solid, smooth surface.
Energy Efficiency Remains Important
According to The Joint Center for Housing Studies, homeowners and builders alike continue to make homes more energy efficient.  This is led by regional certification programs as well as national green building standards.
Vintage is Hot
Reproductions from the 1950s, '60s and '70s will be a hot design trend in home furnishings.  Think of the furniture in the hit TV show "Mad Men."
Bold Lighting Touches are Added
In addition to functional lighting, bathrooms will boast chandeliers.  Ooh, la la!
Ceilings Become a Focal Point
Ceilings will no longer fade into the background with the addition of architectural enhancements such as domes and bold paint options including metallic colors.
 Whether you're looking for trendy or traditional Bloomfield Hills homes, I can help you find your perfect fit.  Call me today at 248-514-2640 or email me at info@NorthWoodwardHomes.com to get started.

Lee Morof
Associate Broker/Attorney
RE/MAX Showcase Homes
Birmingham, Michigan
www.NorthWoodwardHomes.com
info@NorthWoodwardHomes.com
Call:  248-514-2640