If higher electric rates and lower budgets have you searching for creative ways to cool your Bloomfield Hills home without spending more, read on: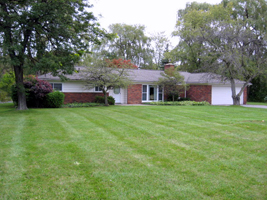 1. Stop generating heat.  Turn off your computer and monitor when not in use.  Lower the thermostat on your water heater.  Air dry your dishes instead of using your dishwasher's dry cycle.  Grill outdoors or use your microwave instead of your oven.
2. Install shades or blinds.  The best way to keep your Bloomfield Hills home cool is to keep the heat out.  White window shades, drapes, or blinds reflect heat away from your house. Close blinds, shades and draperies facing the sun to keep the sun's heat out and help fans or air conditioners cool more efficiently.
3. Use a programmable thermostat.  Automatically adjust your air conditioner's  setting at night or when no one is home.
4. Improve your air conditioner's efficiency.  Add insulation around A/C ducts that are in hot spaces such as attics, crawl spaces and garages.  Make sure your fireplace damper is closed.
5. Turn on a fan.  Whether you use a box fan, a ceiling fan or an oscillating fan, this one appliance can make your room feel 6 to 7 degrees cooler.  You can keep a fan on for 12 hours a day and still spend less than $10 a month on electricity for it.
6. Open your windows.  Once the sun goes down, and it gets cooler outside than inside, turn off your A/C and open your windows.  Getting a breeze of fresh air after your home has been closed up all day is very refreshing.
7. Run your furnace fan.  Check your thermostat to see if it allows you to run your furnace fan without engaging the furnace or air conditioner.  By running your furnace fan, the air circulates throughout your home balancing out any cold or hot spots.  This makes your entire home feel more comfortable.  Additionally, allergens that entered your home when your windows were open (see tip 6) will be trapped by the furnace filter. 
8. Move heat generating appliances.  Don't place lamps or TVs near your air conditioner's thermostat. The heat from these appliances will cause the air conditioner to run longer.
9. Live in your lowest level.  Because heat rises, the basement and first floor of your home are naturally cooler than the upper levels.  Spend as much time as possible in the lowest levels of your home this summer.  If the majority of your time is spent there, you may want to close up the A/C vents in the unused upper levels to save even more money.
10. Hang laundry outside to dry.  Your clothes dryer is like a spinning oven.  Don't heat up your home by turning it on.  Instead, go for the green fix and hang your laundry outside to dry.  If your neighborhood bans outdoor clotheslines, wait until the cooler evening hours to use your dryer. 
Stay cool and enjoy your summer for less!
How do you save on energy bills?  I'd love to hear your ideas.  Post a comment here, or email your tips to me at info@NorthWoodwardHomes.com.

Lee Morof
Associate Broker/Attorney
RE/MAX Showcase Homes
Birmingham, Michigan
www.NorthWoodwardHomes.com
info@NorthWoodwardHomes.com
Call:  248-514-2640