Buying a new home isn't a sprint; it's a marathon. When you find the Southeast Michigan real estate of your dreams and place an offer that is accepted, don't assume the marathon is over — there are many more miles you must travel before closing.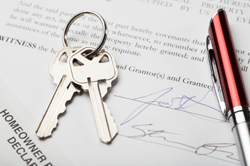 Here are four steps to take after the contract is signed:
Be prepared for your earnest money or escrow deposit to be cashed. This money can be anywhere from $1,000 to three percent of the price.
Go over disclosures with a fine-tooth comb. Your agent will help you identify any red flags. Then, you want to familiarize yourself with the home's history, zoning district and past building permits. Ask questions about anything you don't understand.
Negotiate with your bank. It's time to lock in an interest rate with your lender. You might have gotten pre-approved beforehand, but now you actually need the loan.
Schedule a property inspection. Attend the inspection, and come prepared with a list of questions for your home inspector. The point of this appointment is not just to highlight major issues, but also to familiarize yourself with the short and long-term maintenance of your new Southeast Michigan real estate.
Don't get derailed by unexpected costs and time-consuming tasks that come after you sign a contract. You'll want to be mentally and financially prepared so that you can close smoothly and move into your new Southeast Michigan real estate quickly.
If you'd like more information about what happens before closing, please call me at 248-514-2640 or email me at info@NorthWoodwardHomes.com.

Lee Morof
Associate Broker/Certified Distressed Property Expert/Attorney Lee Morof
RE/MAX Showcase Homes, Birmingham, Michigan
www.NorthWoodwardHomes.com