With the overabundance of properties for sale these days, your Royal Oak Michigan home for sale needs to stand out from the crowd.  One of the easiest things you can do to make your home shine is to finish all the basic repairs you've been putting off.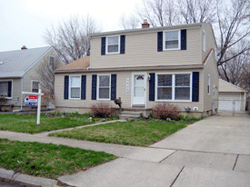 Here are 5 little repairs that make a big difference to potential buyers who visit your Royal Oak Michigan home for sale:
Perk up the exterior: As we all know, first impressions are crucial.  Give your picket fence, mailbox and front door a fresh coat of paint.  Missing roof shingles and hanging gutters frighten potential buyers, so fix them.  Give buyers the opportunity to think, "Where's the best place for our couch?" rather than "Oh no, there's a problem with the roof!"
Fix dripping faucets: A dripping faucet calls attention to itself, but it's not difficult or expensive to fix.   While you're fixing that dripping faucet, why not replace the fixtures.  It's a minor expensive that gives your bathroom or kitchen a major facelift.
Cover wall cracks: Hairline wall cracks that appear above windows and doors are caused when framing lumber dries out and shrinks or the structure settles.  Although they typically are not signs of structural problems, they may scare away potential buyers.  Cover them with spackling or adhesive-backed fiber mesh drywall tape.
Repair floors: Replace chipped or cracked tiles, and clean or replace the grout.  Refinish hardwood floors.  Steam clean or replace carpets.
Restore baseboards: If you're like most people, you haven't thought about your baseboards for years.  During that time, pets, children and vacuum sweepers beat-up your baseboards making them dirty, scratched eye sores.  Take the time to repair the scrapes by sanding them smooth or filling in dents with spackle.  Then, repaint the entire baseboard from end to end.
If you're ready to put your Royal Oak Michigan home up for sale, I can help.  Give me a call today at 248-514-2640 or email me at info@NorthWoodwardHomes.com for more information.

Lee Morof
Associate Broker/ Certified Distressed Property Expert /Attorney
RE/MAX Showcase Homes, Birmingham, Michigan
Call:  248-514-2640
info@NorthWoodwardHomes.com
www.NorthWoodwardHomes.com