With the struggling economy and the move toward living greener, small houses are becoming more popular.  You may have heard about the Small House Movement and wondered if living in a small Royal Oak Michigan home for sale will be right for you.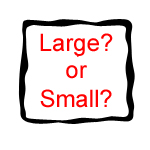 To help you decide, here are answers to some of the most frequently asked questions about small houses:
How tiny is a small house?
What is typically referred to as a small house varies widely in size from about 650 square feet down to the extremely miniscule house of about 120 square feet. However, any home with fewer square feet than you're living in now can be considered a small house.  If you're currently living in 3,000 square feet and you move to a Royal Oak Michigan home for sale that has 1,500 square feet, you've downsized by half.  It all depends on your perspective.
Does smaller equate to less expensive?
Most smaller Royal Oak Michigan homes for sale are less expensive simply because of the reduced square footage.  For the same reason, smaller houses cost less to heat, cool and maintain.  Of course, if you add on luxury features like marble counters and hand-carved built-ins, a small home can quickly go from economical to expensive.
Do I have to have it built from scratch?
Although the Small House Movement trend is fairly new, there have been small houses around for centuries.  Depending on the area in which you live they may be called cottages, bungalows, row houses, town houses or even shotgun houses.
Whether you want a micromini house, a mcmansion or any size in between, I can help you find and negotiate a good price for it.  Give me a call today at 248-514-2640 or email me at info@NorthWoodwardHomes.com to get started.

Lee Morof
Associate Broker/Certified Distressed Property Expert/Attorney
RE/MAX Showcase Homes, Birmingham, Michigan
Call:  248-514-2640
info@NorthWoodwardHomes.com
www.NorthWoodwardHomes.com