Whether you're looking to buy or sell a home, finding the perfect Southeast Michigan real estate agent can be tough. The process is often overwhelming and you want to ensure that you have the right person by your side — someone trustworthy, hard-working and who knows what they're doing!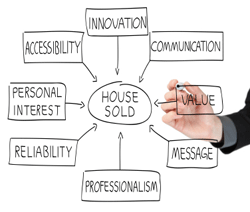 That is why it's extremely important to thoroughly do your research when it comes to Southeast Michigan real estate agents. You need to interview several agents, follow through on referrals and ensure they have the proper credentials.
All the acronyms after agents' names can be confusing, so here are a few that describe specializations you might need:
SRES – This stands for Senior Real Estate Specialist. The SRES designation is for agents who work with buyers and sellers over the age of 55. If you're over the age of 55 or are helping your parents who are over the age of 55 buy or sell, you may want to find an agent with an SRES designation.
NAR's Green Designation – This designation means the agent has had training in green building qualifications and sustainable business practices. Look for an agent with these acronyms if green living is on your home checklist.
SFR – This acronym stands for Short Sale & Foreclosure Resource – As the certification indicates, these are agents who specialize in short sales and foreclosures. With the economy forcing many homeowners into one of these categories, it could be valuable to have an expert with this designation help you successfully navigate the tricky processes.
Just because agents have an acronym or two or three after their names doesn't necessarily mean they're the right fit for you. However, the designations can give you some clues as to their level of knowledge and areas in which they specialize.
If you have more questions about real estate acronyms and designations or are looking for a qualified, professional Southeast Michigan real estate agent, please call me at 248-514-2640 or email me at info@NorthWoodwardHomes.com.

Lee Morof
Associate Broker/Certified Distressed Property Expert/Attorney
RE/MAX Showcase Homes, Birmingham, Michigan
Call:  248-514-2640
info@NorthWoodwardHomes.com
www.NorthWoodwardHomes.com