Advice for home sellers is everywhere!  Turn on the TV, radio, or computer and you're practically bombarded with ideas on how to prepare your Bloomfield Hills real estate to get it sold.
Curb Appeal: It's Elementary, My Dear Watson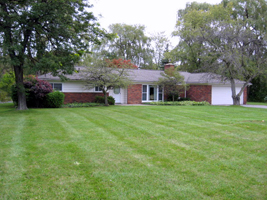 Sometimes the simplest solution is right under your nose.  Sure, renovations, additions, upgrades and updates are great—and should not be overlooked. But common sense says buyers make their first judgment of homes for sale based on the homes' exterior.
Increasingly Discerning Buyers in Today's Bloomfield Hills Real Estate Market
Today's real estate market is challenging for sellers, all the more reason why every little detail matters. Buyers know they are in a strong buyer's market and literally won't put up with any rubbish, when window shopping for homes.
Before a potential buyer even considers stepping a foot inside your home, they want to see curb appeal — and not just any curb appeal, mind you. The discerning home buyer of today wants everything "just so."
Here's what buyers are looking for:
Precision lawn care:  That means weekly mowing and edging in the warm months and snow or ice removal in the cold months.  The perfect lawn features mowing done in precise straight lines resulting in a very symmetrical, uniform look.  Don't forget to trim around the driveway, stones, garden, trees, and especially the sidewalk.
No junk lying around: Pack rats, you know who you are!  Put things in storage.  Don't have an RV blocking your driveway or bikes and toys strewn everywhere.
Beautify: Pick up leaves, weeds, branches and other debris.  Plant beautiful flowers.  You can even buy pre-bloomed flowers and replant.
Splash o' Color: Paint the house, garage, doors and shutters in neutral, updated colors.
Fix and Re-Finish: Wooden decks and porch railings should be in tip-top shape.
Shoot for Showroom Shine
Just imagine that you are trying to win a contest for best looking home in the area. Think model-home quality.
You've got a Friend!
To help you get the most out of your precious Bloomfield Hills real estate, I'm here for you.  Give me a call today at 248-514-2640 or email me at info@NorthWoodwardHomes.com.

Lee Morof
Associate Broker/Attorney
RE/MAX Showcase Homes
Birmingham, Michigan
www.NorthWoodwardHomes.com
info@NorthWoodwardHomes.com
Call:  248-514-2640