Valentine's Day is the perfect time to add some romance to your Bloomfield Hills home.  No need to spend a lot of money.  Here are some simple tips to create your own inexpensive, yet romantic, Valentine evening: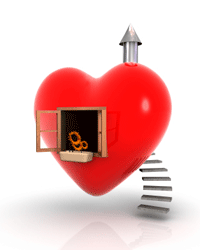 Romantic Dinner for Two
A delicious meal is a great way to start off the evening. Many restaurants raise their prices on Valentine's Day, so forego the expensive dinner out. Instead, create a special dinner at your Bloomfield Hills home. Here's what you'll need:
Cook Pecan Chicken with Mustard Sauce – Don't like to cook?  Buy an already prepared meal from your local grocery store; it's fairly inexpensive these days.  Just be sure to remove it from the containers and put it on pretty plates.
Add Music – Turn the radio to your favorite station and enjoy.  Or, download some romantic music to your MP3 player.
Use candlesticks and cloth napkins – Candles are always romantic, and, when lit, eliminate the need to clean your Bloomfield Hills home thoroughly.  Your sweetie won't be able to see the dirt in the glow of candlelight.
After Dinner
Valentine's Day is about spending time with the one you love.  Instead of going out, rent a romantic movie and stay in.  Wine (or sparkling juice), a movie and snuggling on the couch can do wonders for your love life!
Wine or sparkling grape juice – Grab a 2 Buck Chuck at Trader Joe's
Movie – Rent a Redbox movie for $1.
The Bedroom
Go on vacation – in your own bedroom!  Get that "new room" feeling by washing your bed linens, fluffing up the pillows, and spraying the pillowcases with lavender essential oil.  Put one rich chocolate wrapped in foil on each pillow.
Wishing you and your loved one a sweet Valentine's Day!

Lee Morof
Associate Broker/Attorney  
RE/MAX Showcase Homes
Birmingham, Michigan
www.NorthWoodwardHomes.com
info@NorthWoodwardHomes.com
Call:  248-514-2640